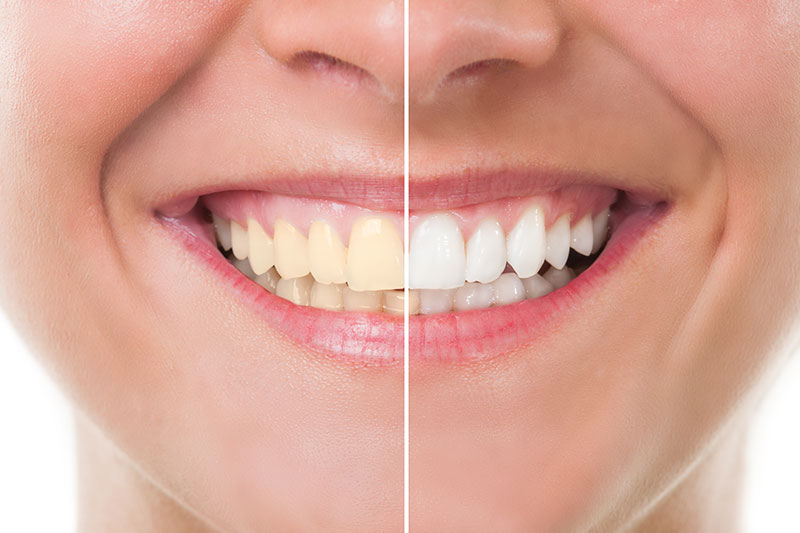 Dazzling white teeth are associated with beauty, high self-esteem, and a healthy lifestyle. However, your lifestyle habits such as smoking and chewing tobacco, drinking black tea, coffee, or wine, using medications such as tetracycline, consuming too much fluoride, and natural ageing can cause your teeth to become discolored over time.
Patients in Mira Mesa & Scripps Ranch, CA, who're looking to brighten their teeth and restore the former luster, may consult with Neal Pham, DDS to find the most appropriate teeth whitening procedure to get rid of the stains and discoloration.
Types of teeth whitening - Mira Mesa & Scripps Ranch CA
Teeth whitening is a simple and non-invasive cosmetic dental procedure designed to alter the shade of your discolored natural teeth to give you a dazzling smile. Dr. Pham provides different teeth bleaching options, including in-office and at-home approaches that are budget-friendly and convenient for you.
What happens during in-office teeth whitening?
During in-office teeth whitening, Dr. Pham will clean and examine your teeth, and then take photos to monitor your progress for the bleaching treatment. The actual bleaching process involves:
Placing a cheek retractor in your mouth to expose the teeth
Applying a protective liquid to your gums
Making individual applications of the whitening gel that are left on for a time before removal
Using a special light to enhance the effectiveness of the whitening gel
Removing the whitening gel
The whitening gel application/removal process will be repeated a few times in a single session. Dr. Pham will monitor the progress of the bleaching process to determine how many subsequent treatment sessions will be required to achieve the desired results. However, one session is usually enough to produce noticeable results and significantly improve your smile.
Take-home whitening kit
If you prefer to whiten your teeth on your own at home, Dr. Pham will make customized bleaching trays from impressions of your teeth. These are designed to fit snugly and keep the bleaching gel against your teeth for adequate penetration without irritating your gums. You only need to wear the trays for a specific amount of time as recommended, depending on your case. Your teeth will become gradually whiter, with only some periodic touch-up treatments to maintain a bright smile.
Get white teeth today
Dr. Pham works with each individual patient to use the most appropriate bleaching process for their teeth, while taking into account your schedule and budget. To learn more about teeth whitening, please contact our office in Mira Mesa & Scripps Ranch, CA. We will also schedule your appointment with Dr. Pham for your personal consultation.